Ingredients Needed:
1 kg Bone less Chicken cut into small or medium thin strips, length wise,
(Breast portion) wash and drain well.
4 table spoons Flour
6 to 8 table spoons Evaporated milk
1 table spoon Ginger paste
1 table spoon Garlic paste
2 table spoons Honey
4 table spoons Tomato Ketchup
2 table spoons Red chili powder
1cup Quick cooking oat meals
Oil (for deep frying)
4 table spoons Cocoa powder
2 table spoons Corn Flour
¼ table spoon Baking powder (Mix corn flour with baking powder well and sift together)
Bone less Chicken Bites
Bone less Chicken Bites
Method of Making:
First of all take a large mixing bowl and place all the ingredients (except oat meals and oil) in it and mix gently until all of them merged well. After that cover and leave in the refrigerator to marinate for some time. You should keep the mixture in the refrigerator for an hour. Now spread the oat meal with dry hands in a large tray and then in oat meals mix again finely and coat chicken strips nicely turn by turn.
buffalo chicken bites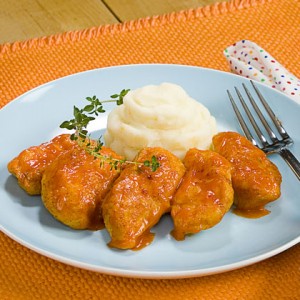 Deep fry in batches in hot oil on medium or slow flame and fry them until they turned golden brown, crispy and cooked well.
After that drain on absorbent paper, and then put them into serving platter. After that server them with tomato ketchup and enjoy the crispy taste.